Jacksonville Jaguars vs. Houston Texans: Friday Fact or Fiction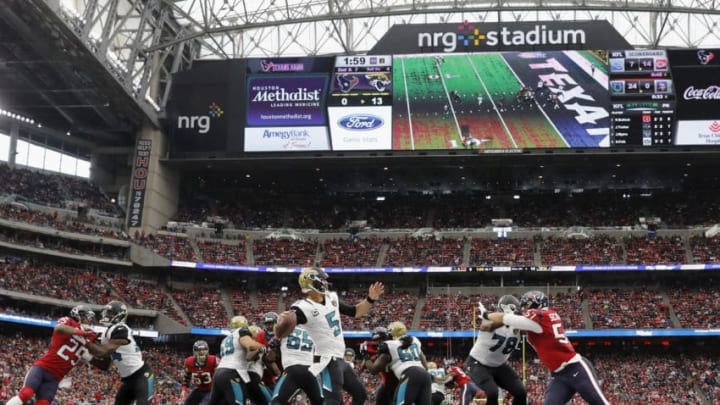 HOUSTON, TX - DECEMBER 18: Blake Bortles /
HOUSTON, TX – DECEMBER 18: Jadeveon Clowney /
Blake Bortles will throw an interception: FACT
When Doug Marrone took over as the interim head coach at the end of last season, it looked like he finally found something in quarterback Blake Bortles. After throwing 16 interceptions in the first 14 games, Blake threw it a whopping 77 times in weeks 16 and 17 and none of them went to the opposing defense.
Sure, there were a number of safe throws but it was still shocking to see Blake become a functional quarterback after an entire season of dismal play.
All that momentum appears to have melted in the Florida sun as all reports from training camp and the preseason seem to indicate no improvement out of the fourth year quarterback.
Going back to the mantra for this year – Blake is bad until he isn't.
Blake's MO is to throw backbreaking interceptions. That could change this year, but will it? Probably not.
The Jaguars can win games with a quarterback who occasionally turns the ball over, but that's only going to work if Blake consistently becomes the playmaker we saw in 2015 that hoodwinked his fellow peers to rank him a top 60 player in the league.
I want to believe in Blake, but he has to show it to me first. He can start by not throwing an interception this Sunday, but I don't see that happening.