Jaguars 6th most likely non-playoff team to make playoffs in 2017, according to Bill Barnwell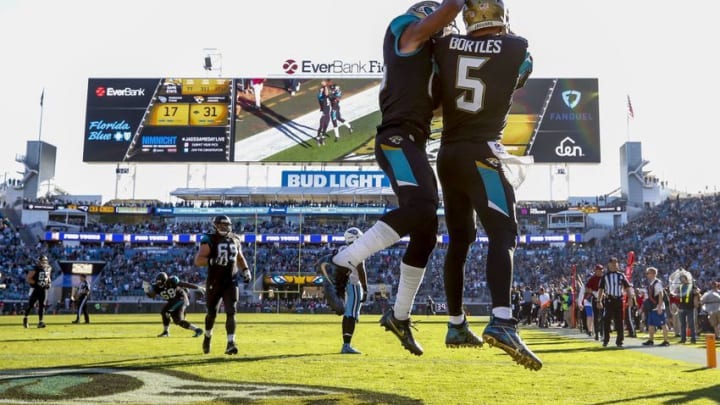 Dec 24, 2016; Jacksonville, FL, USA; Jacksonville Jaguars quarterback Blake Bortles (5) celebrates after scoring a touchdown with Jacksonville Jaguars wide receiver Allen Robinson (15) in the second half against the Tennessee Titans at EverBank Field. The Jacksonville Jaguars won 38-17. Mandatory Credit: Logan Bowles-USA TODAY Sports /
The Jacksonville Jaguars were a trendy playoff pick this year, which means almost no one will make that same mistake in 2017.
Jacksonville Jaguars owner Shad Khan said the Jacksonville Jaguars are "an extremely talented" team in comments he made after letting go of head coach Gus Bradley. That means he expects big things from whoever the head coach is in 2017.
But just how likely is it that the Jaguars can go from worst to first in one season?
More from Jacksonville Jaguars News
Bill Barnwell recently discussed the non-playoff teams most likely to make the playoffs in 2017, with the Jacksonville Jaguars showing up at number 6.
"6. Jacksonville JaguarsWe already know Jacksonville will go through some upheaval, having fired head coach Gus Bradley after a 14-48 record at the helm. GM Dave Caldwell appears to be safe, and the earliest suitor for the job reinforced his candidacy with a blowout victory over the Titans on Saturday.Interim coach Doug Marrone oversaw a 38-17 victory over Tennessee at home, one that featured Blake Bortles' best start of the season. Bortles went 26-of-38 for 325 yards with a passing touchdown and a receiving score in Saturday's victory, leading to the natural progression of the idea Marrone could be the right coach to get the most out of Bortles. It's possible, of course, although one game is far too small of a sample to make any sort of meaningful insight, and it seems odd Marrone wouldn't have had enough sway as the team's assistant head coach to suggest and implement changes with Bortles on offense, especially in light of coordinator Greg Olson being fired earlier in the year. The bigger concern is interim coaches often fool teams with short-term success before struggling in the long term. It's unclear how Marrone would be different."
Marrone's legitimacy as an actual coaching candidate is certainly questionable, but the real intrigue with the Jacksonville lies in how good they can be with better quarterback play.
"Regardless of who gets the job, the Jags can move fast if they either replace Bortles or find a coach who can turn him into a promising quarterback. Their defense is up to 13th in DVOA, and the offense still has a core of useful receivers."
Outside of Bortles, whoever is making decisions in Jacksonville will have a lot of talent on the roster and (once again) a ton of cap space to work with. Additionally, the Jaguars have yet another high draft slot and should be in position to add some high-level prospects.
"The organization likely will consider moving on from disappointing free agents like Julius Thomas, Jared Odrick, Dan Skuta and Davon House, but the Jags still will have $66 million in cap space next year before rolling any of their existing $39 million over or cutting any of those players. Whoever is in charge will have money to spend, a core of useful young talent and a weak division to attack."
Barnwell has the Colts and the Titans ranked higher in terms of teams likely to make the playoffs next year, almost entirely because of quarterback play. Andrew Luck is great but the Colts have an awful team, and the Titans are by far the best team in the division this year (with a healthy Marcus Mariota).
For now, I don't think it's worth discussing the Jaguars as a playoff team if we don't get an indication on what the quarterback position is going to be in 2017.