Jacksonville Jaguars embarrass themselves again, lose to the Houston Texans: Quick Notes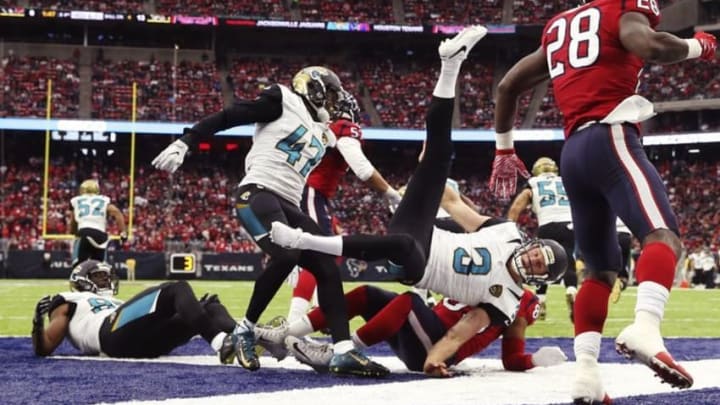 Dec 18, 2016; Houston, TX, USA; Jacksonville Jaguars punter Brad Nortman (3) is upended during the first half against the Houston Texans at NRG Stadium. Mandatory Credit: Kevin Jairaj-USA TODAY Sports /
Brock Osweiler tried to hand the Jaguars the game in the first half, but the Jaguars weren't having any of it today.
The Jacksonville Jaguars had a terrific first half, effectively dominating the Houston Texans to the point where Bill O'Brien benched starting quarterback Brock Osweiler for Tom Savage.
So of course the Jaguars ended up losing 21-20.
The Houston Texans are in the thick of the division title race and the Jaguars are 2-12 with a clear path to another top 3 draft pick.
Here are some quick notes from today's pathetic effort:
The Jacksonville defense did something they haven't done all season – they produced turnovers. Jalen Ramsey and Telvin Smith both had terrific interceptions in the first half, and a very odd fumble in the endzone forced by Tyson Alualu was a big play before halftime. While the Jaguars have been playing solid defense most of the year, they haven't done enough in terms of making big plays. That happened in the first half and it was so unnerving that Bill O'Brien benched Brock Osweiler. You have to be playing rather putrid to get benched against the Jaguars.
Offensively, it's clear the Jaguars are trying to "handle" Blake Bortles. The third year QB actually had some nice throws (one of which was a beauty to Marqise Lee in the endzone that should have been pass interference) and he didn't make any truly atrocious decisions until the last play of the game. Still, the Jaguars are clearly erring towards a short passing game to keep Bortles from making the big mistake he's want to do. That's part of the reason the Jaguars lost this game – no aggressiveness on offense.
The poor coaching has trickled it's way down to almost every element of the Jaguars play at this point. I have no earthly idea why special teams coordinator Mike Mallory is still employed. The Jaguars gave the Texans two points when two players held defenders in the endzone on a punt, and later on Arrelious Benn went out of bounds on his own volition, causing a penalty that negated a running into the kicker flag that would have led to a first down. Outside of special teams – why the heck are the Jaguars taking all three of their timeouts into halftime? You have about a minute to get into field goal range, and you run the clock out. That's in an indictment on what the staff currently thinks about Bortles.
Another bullet point on the coaching – this was another week where the Jaguars found a new and innovative way to lose and that falls entirely on the coaching staff. The Jags had two interceptions, a goalline stand, and a kickoff return for a touchdown… and they blew the game against a backup quarterback.