Jacksonville Jaguars Week 9 Power Rankings: Rock bottom gets lower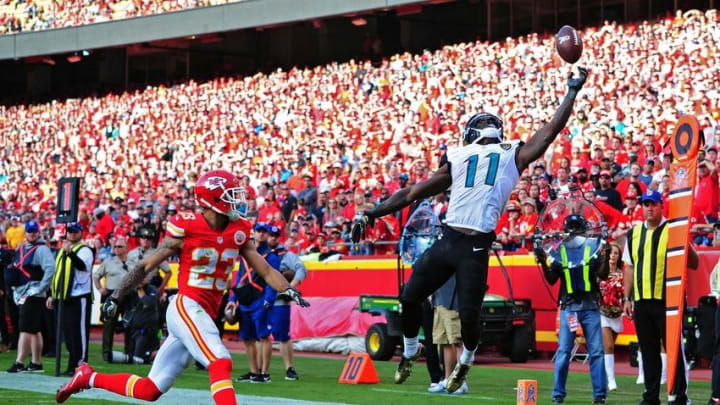 Nov 6, 2016; Kansas City, MO, USA; Jacksonville Jaguars wide receiver Marqise Lee (11) leaps but is unable to catch a pass as Kansas City Chiefs cornerback Phillip Gaines (23) looks on during the second half at Arrowhead Stadium. The Chiefs won 19-14. Mandatory Credit: Jeff Curry-USA TODAY Sports /
Things couldn't get much worse for the Jaguars after a Thursday night thrashing two weeks ago, but they certainly didn't get better after a pathetic loss to the Kansas City Chiefs.
The Jacksonville Jaguars currently sit at 2-6, a familiar place over the last several seasons. The Jaguars have become accustomed to accepting lost seasons by the midpoint of most years, but this year it's different. Expectations for the franchise were higher than they've been for the better part of the decade, but the players and the coaches have failed to deliver.
While all hope was already lost before last week's loss to the Chiefs, the fact that the Jaguars couldn't beat a team missing so many key pieces was further proof that things need to change in a big way this offseason to set the franchise back on the right track.
More from Jacksonville Jaguars News
Here's a brief collection of some rankings around the web as the Jaguars get ready to host a team that isn't good, but still much better than them – the Houston Texans:
"30. Jacksonville Jaguars (last week: 30)The Jaguars probably could have beaten the Chiefs if not for an apparent missed call by the officials when Chris Ivory's touchdown was ruled a fumble. However, that doesn't make up for Blake Bortles' struggles and inability to routinely complete 10-yard passes."
"30JaguarsThey competed against the Chiefs, which is a good sign. But this season is done."
"30. Jacksonville JaguarsThere is something inherently wrong when a football team can't beat an opponent that's missing its QB1, RB1, RB2, WR1 and TE1. Seriously? Sure, the Jaguars kept it close, but the offense bumbled and stumbled its way through most of the day. Bortles tossed one pick and could've had more. Chris Ivory and T.J. Yeldon both fumbled the ball away. So, even though Jacksonville put up 449 yards, they found creative ways to negate most of it. Jags fans must have thrown their Tony Brackens bobblehead through at least two LCDs and a Plasma by now."
"31. Jacksonville Jaguars2016 record: 2-6 | Week 9 ranking: 3066: The Jaguars have held the lead on an NFL-low 66 plays this season, and 57 of those came in one game (a 30-27 win over the Colts in Week 4). It's not going to get much easier for Jacksonville..559: The Jaguars have the fourth-most difficult remaining schedule, with their opponents combining for a .559 win percentage."
My take:
ESPN has the most accurate of all the takes listed above. As I stated last week, there are no teams that I would expect the Jaguars to defeat at this point. The Cleveland Browns are still winless and the 49ers look as talent-poor as any other bottom-dweller, but both teams at least have a coach with some modicum of success in their career.
The Jaguars will likely lose all of their next 4 games, so it wouldn't be surprising if they make a play for 32 in these rankings in the coming weeks.