Jacksonville Jaguars: 5 Questions for Week 3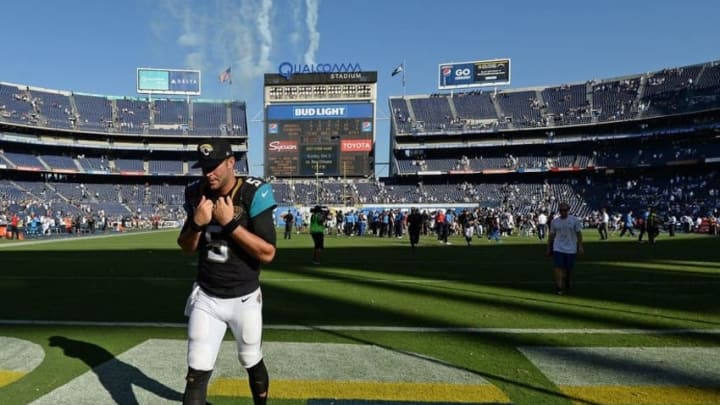 Sep 18, 2016; San Diego, CA, USA; Jacksonville Jaguars quarterback Blake Bortles (5) walks off the field after a 38-14 loss to San Diego Chargers at Qualcomm Stadium. Mandatory Credit: Jake Roth-USA TODAY Sports /
Sep 18, 2016; San Diego, CA, USA; Jacksonville Jaguars defensive end Jared Odrick (75) reacts on the sideline during the third quarter against the San Diego Chargers at Qualcomm Stadium. Mandatory Credit: Jake Roth-USA TODAY Sports /
Can the Jacksonville Jaguars stop the penalties?
The Jaguars had 14 penalties in Week 2, totaling 93 yards. The Chargers had just three penalties for 23 yards.
All things being equal, the most disciplined team will win an NFL football game. Gus Bradley's team was clearly less disciplined against the Chargers and deserved to lose at least based on that. There is no excuse for the sloppy display and disregard for discipline the Jags displayed.
From false starts to pass interference, the Jags simply were not a squad that was prepared to execute. After nine penalties for 79 yards in Week 1 (even if some were bogus, as admitted by the NFL), there is clearly a discipline and execution problem for the Jaguars.
Defensive end Jared Odrick was visibly frustrated and let it known on the football field in Week 2. Similarly, quarterback Blake Bortles let it get to him too.
This goes back to the head coach again but it also falls to the leaders on the team. Captains Paul Posluszny and Bortles have to hold the team to a higher standard.
Next: Can Chris Ivory get the Jags a win?
There's no excuse for a team as talented as the Jaguars to shoot themselves in the foot again and again on the field. There's more to football than just being able to make big plays. They need to do the small things right, too.