Can Kelvin Beachum beat out Luke Joeckel with limited reps?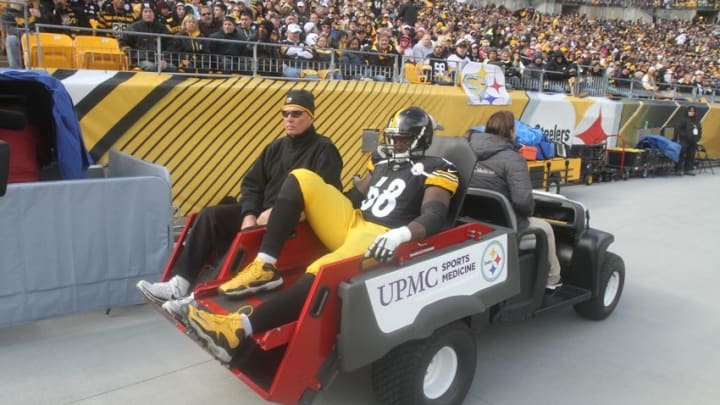 Oct 18, 2015; Pittsburgh, PA, USA; Pittsburgh Steelers guard Kelvin Beachum (68) is carted off of the field against the Arizona Cardinals during the first half at Heinz Field. Mandatory Credit: Jason Bridge-USA TODAY Sports /
Jacksonville Jaguars offensive tackle Kelvin Beachum was brought in as a free agent to unseat Luke Joeckel at left tackle but he's still recovering from a torn ACL. Can he beat him out with limited reps?
The Kelvin Beachum v Luke Joeckel training camp battle has been one of the more exciting things to watch through training camp for the Jacksonville Jaguars. Beachum was expected by many to come away with the win here and finally force Joeckel to move into guard or down the depth chart.
Unfortunately, the battle most people hoped for has yet to really get underway.
Beachum is still recovering from a torn ACL suffered in Week 6 of the 2015 season when playing for the Pittsburgh Steelers. This has limited his time on the field to this point, which has made the overall battle a bit lackluster, especially to fans of the team who want to see someone finally settle that position after Joeckel failed to live up to his second-overall draft position.
Missing multiple practices in this past week hasn't helped Beachum to establish himself as the clear-cut option over Joeckel. Winning the starting job usually requires a player displaying that he is good enough to knock the established player down but to this point we simply haven't been able to get a good display from Beachum. This is a safety-first approach by the Jags coaching staff, which is a wise move.
Still, it doesn't help the team to truly know what caliber offensive tackle they will have when the season rolls around (at least to this point). Kelvin Beachum most certainly won't be Luke Joeckel 2.0 but he isn't an established player on this rebuilt offensive line that desperately needs to gel.
More from Black and Teal
Meanwhile, the limited time on the field for Beachum could work to Joeckel's advantage. Joeckel isn't a terrible left tackle, he's just average. Beachum's presence could spur him onto the greatness the Jags always thought he had. If Joeckel can improve, though, we aren't seeing it in light of Beachum in their comparative reps, but simply against his past play.
This isn't necessarily the best thing for the Jags coaching staff, who want to be able to compare the two options against each other.
No matter which way you slice it, at this point it is difficult to see through the murky situation at left tackle, especially as people not on the coaching staff. There's still plenty of time before the season begins, though, and knowledge could shift.