Jacksonville Jaguars are smart to lock-up Allen Hurns now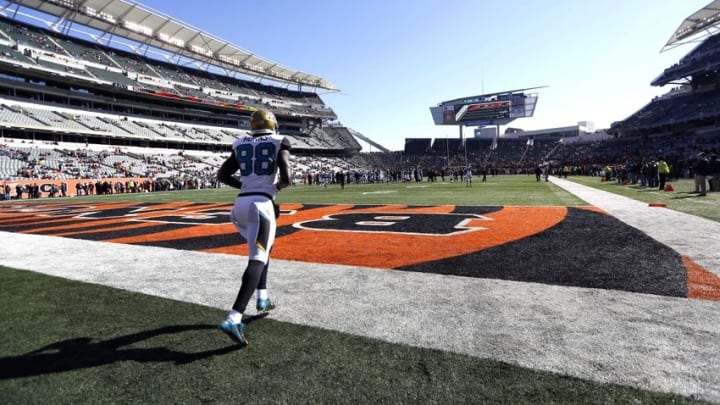 Nov 2, 2014; Cincinnati, OH, USA; Jacksonville Jaguars wide receiver Allen Hurns (88) during warmups prior to the game against the Cincinnati Bengals at Paul Brown Stadium. Mandatory Credit: Aaron Doster-USA TODAY Sports /
If someone tries to convince you the Jacksonville Jaguars shouldn't have extended Allen Hurns, you should immediately stop listening to them.
The Jacksonville Jaguars came into the 2016 offseason with the most salary cap space in the entire NFL by a significant margin. This was thanks to the wholesale decimation of the roster enacted during the regime of former general manager Gene Smith. The Jaguars have literally nothing to hang their hat on from Gene Smith's 4-draft classes and the team has paid for it to the tune of a 12-36 record under Gus Bradley.
The future should be significantly different, as the Jaguars have drafted good players over the last 3 years under new GM David Caldwell. Consequently, the team is going to try and re-sign some of their draft picks to second contracts. In general, waiting for these players to reach free agency is disadvantageous to the team because it allows for other suitors to bid on the player. Clearly it's prudent to re-sign players while they are still under contract.
Allen Hurns was in a unique situation where he could sign a new deal after 2-years instead of 3 because he's an undrafted free agency. Anyone who watched Hurns play knew the Jaguars should try and keep him, so why not do it as soon as possible? Well, Bill Barnwell over at ESPN doesn't think this was the best idea.
More from Jacksonville Jaguars News
Barnwell is about as strong a proponent as you'll find for number-crunching and analytics (
he was part of the lunatic squad who thought Blake Bortles had a historically bad game
when he threw for accounted for 4 touchdowns in a blowout of the Colts last year) so this isn't a completely shocking take from him. It is just plain wrong however – why on earth would you penny-pinch a young, emerging talent playing on a painfully cheap undrafted free agent deal? What kind of message are you sending to the rest of the team full of young talents?
The Jaguars are likely looking at extensions for Bortles, Allen Robinson, and Telvin Smith at the very least next year. They need to keep the financial flexibility for those guys in the coming years and the deal for Hurns is almost certainly going to be structured in a smart way.
Barnwell backtracked a little bit when he realized it was an extension and not a completely new contract, but the point is still there – this was a right move, even if the Jaguars are paying more for Hurns in 2016 and 2017 than they otherwise would have.
Hurns deserved this extension and the Jaguars were smart to do it.