Free Agency Leaves Jacksonville Jaguars Draft Options Wide Open: Offensive Line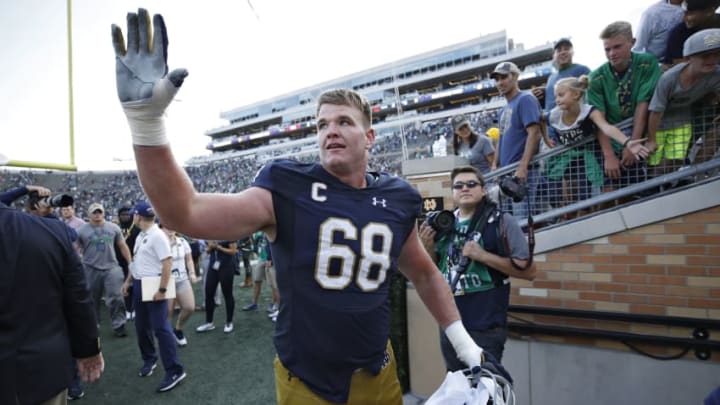 SOUTH BEND, IN - SEPTEMBER 02: Mike McGlinchey /
The start of the new league year represents a symbol of hope for many NFL franchises. Yet for the first time in a decade the Jacksonville Jaguars are no longer licking their wounds following another disappointing campaign, but rather looking to build on their success from 2017. 
The arrival of first-team All Pro Andrew Norwell bolstered the left hand side of the line, but the Jaguars still have room for improvement upfront. Neither A.J Cann or Jermey Parnell are bad players, but – with the team angling itself towards another extended post-season run, the Jaguars would be wise to seek four years of inexpensive production from any of these rookies.
Another reason for the Jaguars to invest in their offensive line is that their two weaker linemen are in contract purgatory. Parnell turns 32 before the new season and A.J. Cann is entering the final year of his rookie deal, meaning that neither of them might be on the roster come 2019 regardless of what happens in this years' draft. With some top talent projected to be available at the bottom of the first round, it would make sense for the Jaguars to secure their long term future at either guard or tackle with the 29th pick.
Free Agency Leaves Jacksonville Jaguars Draft Options Wide Open: Offensive Line
Options: 
Will Hernandez – Guard, UTEP
Though Hernandez played at left guard for his entire UTEP career, the Jaguars would line him up on the right side of Brandon Linder and help dominate the run game. At 6″2 he is a little shorter than scouts and general managers normally want, Hernandez is able to harbour more than enough power through his 327lb frame to excel at the position. As seen by his impressive 37 reps of 225lbs at the NFL combine, the most of any offensive lineman.
More from Jacksonville Jaguars News
Whilst some may knock his draft stock due to the fact he hasn't played against much high-level opposition, Sean Kugler – long time NFL offensive line coach now with the Denver Broncos, had been giving Hernandez pro-ready coaching for almost his entire collegiate career. Kulger's impact on Hernandez's growth has been profound, Hernandez had this to say when asked about his former coach:
"He taught me everything from football as it should be played with a mean streak, coming off the ball every play, to actual technique and improving my craft. He improved me in every way, physically, mentally, technically, so I'm very thankful to Coach Kugler."
Jacksonville's offensive line coach Pat Flaherty will see a lot to like in Will Hernandez, a nasty, powerful guard with Pro-Bowl potential in the pros. Hernandez would fit seamlessly into the Jaguars' run first offense, providing another young building block for a still developing roster.
Mike McGlinchey – Tackle, Notre Dame
Mike McGlinchey fits the Jacksonville Jaguars' offensive identity perfectly. Athletic, powerful and masterfully technical, McGlinchey is the highest rated offensive tackle that could fall to the Jaguars at 29th overall.
A three year starter for Notre Dame, McGlinchey served as a bookend on each side of the line during his time with the Fighting Irish, meaning that he's better in pass-protection than a lot of right tackle prospects in this years' class.
At 6″8, 312lbs, McGlinchey has a leaner frame than some scouts and general managers would like, but his film suggests he wont struggle with the power of pass-rushers at the next level. A team captain for his final two years of college, McGlinchey's character fits seamlessly with the culture that Tom Coughlin and Doug Marrone are establishing in Jacksonville.
If the Jaguars' front office do decide that it's time to move on from Parnell, McGlinchey can be a week one starter without dropping the quality of the teams' offensive line play. Bleacher Report's Matt Miller recently mocked McGlinchey to the Jaguars, poitning out that if coupled with second-year Cam Robinson, McGlinchey would provide "at least three more seasons of inexpensive tackle play". Representing another smart move from general manger Dave Caldwell, as it gives Jacksonville "the financial freedom to continue improving the roster".  Further extending this young teams' Super Bowl window.
Isaiah Wynn, Guard, Georgia
Despite Isaiah Wynn earning First-Team All-SEC and Second-Team All American honours for his efforts during 15 starts at left tackle during 2017, his lack of prototypical size at the position (Wynn measured at 6″2, 313lbs during the NFL Combine) means he will likely find his home at guard in the NFL. Wynn is one of the better pass-protection talents in the entire class, according to @PFF he allowed only 20 hurries, four sacks and two quarterback hits in 1,104 pass-protection snaps playing at both guard and tackle.
Wynn's size might have had some scouts projecting him outside of the first round during the season, but his excellent showing at the Senior Bowl cemented his position as one of the premier guard prospects in the entire class, behind Notre Dame's Quenton Nelson.
With Parnell ranking ninth amongst right tackles in Bleacher Report's NFL1000 series, the Jaguars front office may view guard as a more immediate area of concern to address with the 29th overall.
Drafting in a talented guard to line up next to Jermey Parnell makes sense, Duke Manyweather indicated that "(Parnell) gets in trouble… when he is too aggressive and makes himself susceptible to an inside counter", and so by adding a player of Wynn's calibre inside Parnell as well as free agent acquisition Andrew Norwell the Jaguars' offensive line would immediately become one of the best in terms of overall talent across the NFL.
The Skinny: 
Most of the league's best offensive line units have been assembled through consistently solid drafting, the Jaguars' unit is no different. Despite the addition of Norwell, the Jaguars front office should be actively looking to find a prospect in this years draft who can come in and contribute on day one.
Whilst Cann is the weakest link in a strong group, Parnell's age may force Caldwell to focus on the need at offensive tackle early on in the class. Whilst any one of the three prospects listed above would be capable of starting on day one, McGlinchey is the one most worthy of a first round pick.
That being said, the Jaguars have made a habit of trading up to the top of the second round to find somebody who will help the team (the team traded up for Cam Robinson and Myles Jack in 2017 and 2016 respectively). So it is entirely possible that the Jaguars find two missing pieces for the offensive line early in the 2018 NFL Draft.
Previous installments: