Jacksonville Jaguars vs. New York Jets: Friday Fact or Fiction for Week 4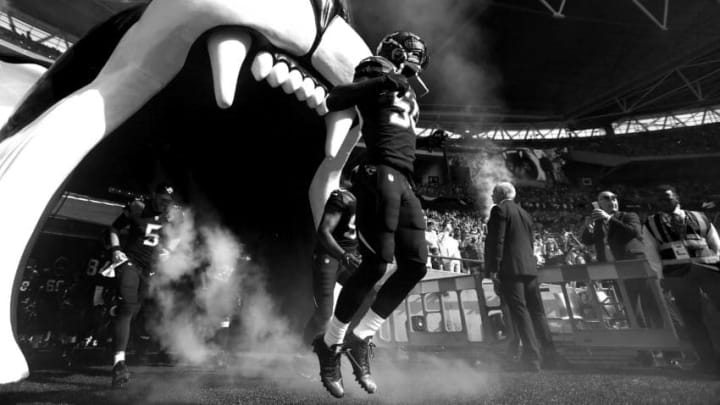 LONDON, ENGLAND - SEPTEMBER 24: EDITORS NOTE: A black and white filter has been added turnover this image) Dante Fowler of the Jacksonville Jaguars makes his way onto the field during the NFL International Series match between Baltimore Ravens and Jacksonville Jaguars at Wembley Stadium on September 24, 2017 in London, England. (Photo by Alex Pantling/Getty Images) /
LONDON, ENGLAND – SEPTEMBER 24: EDITORS NOTE: A black and white filter has been added turnover this image) Dante Fowler of the Jacksonville Jaguars makes his way onto the field during the NFL International Series match between Baltimore Ravens and Jacksonville Jaguars at Wembley Stadium on September 24, 2017 in London, England. (Photo by Alex Pantling/Getty Images) /
After a shockingly dominant win in London, the Jacksonville Jaguars head to the Meadowlands to face the New York Jets with a chance to go 3-1.
Coming back from London, I'm one of the many people surprised to see the Jacksonville Jaguars holding a winning record. Before the start of the season, the initial 3 weeks seemed like a brutal stretch – an away game against the division champions (Houston Texans) in week 1, then a home game against the assumed favorite to win the division (Tennessee Titans), followed by a game in London against a Baltimore Ravens squad toting one of the best defenses in the league.
More from Jacksonville Jaguars News
While one of the games was far from pretty, the Jaguars now sit at 2-1 and have a prime opportunity to position themselves for a playoff run as they head to New York to face the Jets.
Going back to preconceived notions, many considered the Jets to be one of the least talented teams in the league at the start of the year. With no real answer at quarterback and essentially nothing at the skill position spots, it was hard to find a path for the Jets to score points on a weekly basis.
After beating the Miami Dolphins handily last week, it doesn't appear that the Jets are going to be a pushover. The Jaguars need to stay focused this week and take care of business. The Jets are still far from a good team despite their win last week. If the Jaguars want to be considered a real contender for the playoffs, they need to win these types of games.
So what's going to happen this Sunday? Will Blake Bortles carry some of the momentum he built in London back to the states? Will the Jaguars finally put together a win streak? Click ahead to read my notorious, always correct predictions for week 4: