Jacksonville Jaguars vs. Houston Texans: Friday Fact or Fiction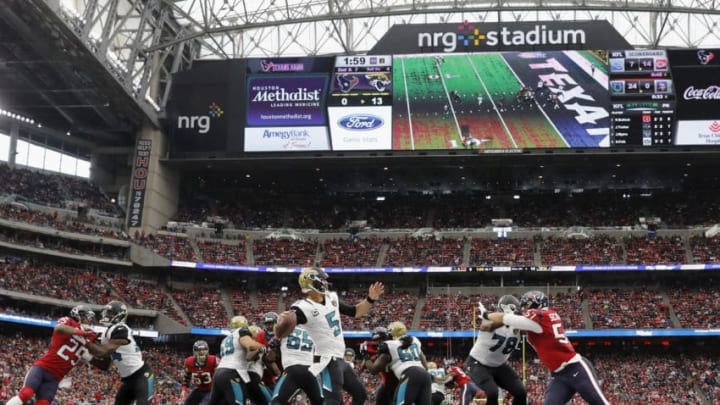 HOUSTON, TX - DECEMBER 18: Blake Bortles /
HOUSTON, TX – DECEMBER 18: Blake Bortles /
As the Jacksonville Jaguars open up another regular season, they are heading to an emotional buzzsaw against the Houston Texans.
Welcome to the 2017 NFL Regular Season!
It's subtle, but the beginning of this season feels slightly different compared to previous years for Jacksonville Jaguars fans.
If there's one thing you can count on from fans of the Jacksonville Jaguars it's optimism. When the team handed the reigns over to former general manager Gene Smith, everyone cheered through some tough losses and worsening rosters. When frustration finally boiled over and the team turned over a new leaf with general manager David Caldwell and former head coach Gus Bradley, fans bought and in and cheered through sub-5 win seasons.
More from Jacksonville Jaguars News
In 2017 however, fans have had enough. Even with the return of Jacksonville's godfather Tom Coughlin, we have had it. Too many times we have gotten our hopes up, thinking this is finally the year that the Jaguars step onto the field and consistently compete with the good teams in the NFL.
The Jaguars are bad until they aren't.
The journey to win back fans starts this Sunday and the team has a heck of a challenge in front of them. The Houston Texans will be taking the field to perform in front of a crowd that has had to deal with horrific conditions thanks to Hurricane Harvey and the Texans will be geared up to try and treat them to a win.
So what's going to happen this Sunday? Click ahead to read my notorious, always correct predictions for week 1: