The Jacksonville Jaguars have a lot to watch for in the Super Bowl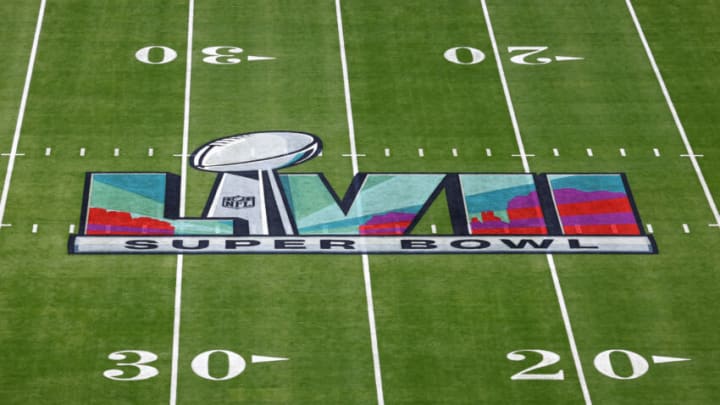 GLENDALE, ARIZONA - FEBRUARY 12: The Super Bowl LVII logo is seen on the field prior to Super Bowl LVII between the Kansas City Chiefs and the Philadelphia Eagles at State Farm Stadium on February 12, 2023 in Glendale, Arizona. (Photo by Rob Carr/Getty Images) /
It is the day! Super Bowl LVII is here! The Jacksonville Jaguars are not participating in it but there is a lot to watch for here if they plan on being in the game soon.
The Kansas City Chiefs are getting ready to try and win their second title in the Patrick Mahomes/Andy Reid era while the Philadelphia Eagles are looking for their first title since the 2017 season.
Jaguars head coach Doug Pederson has ties with both of these organizations. He was the head coach of the Eagles when they won the Super Bowl in 2017. He also was the offensive coordinator for the Chiefs from 2013-2015.
In addition to that, the Jaguars' front office can watch these two teams and use their strengths to make decisions for their franchise.
The Jacksonville Jaguars have a lot to watch for in Super Bowl LVII.
Trevor Lawrence might not be as good as Patrick Mahomes but nobody is. However, that doesn't mean that he can't be one of those elite starting quarterbacks that leads his team to a Super Bowl victory. The Chiefs are an example of a team built around their quarterback.
On the flip side, the Eagles have a very good quarterback in Jalen Hurts but it is hard to claim that they are built around him. Their entire roster is as elite as it gets in the National Football League. It makes total sense why they are in the Super Bowl.
The Jaguars can learn a lot from both of these organizations. There is a happy medium between the two philosophies that can help a team win it all.
The Jaguars can have an elite quarterback while surrounding him with outstanding weapons, a good offensive line, and a fantastic defense.
If Trevor Lawrence ever gets to the point where he commands a huge contract, things will get harder but they can try to be more like the Eagles (with a potentially even better quarterback) for now while he isn't on a big contract.
This is also an opportunity for everyone to get hungry. The Jaguars lost to the Chiefs by seven in the playoffs. They could have won that game if just one or two plays went differently. There is no reason for anyone to think that this can't be the Jaguars soon enough.