Jaguars get superb grade from CBS Sports for crushing the Texans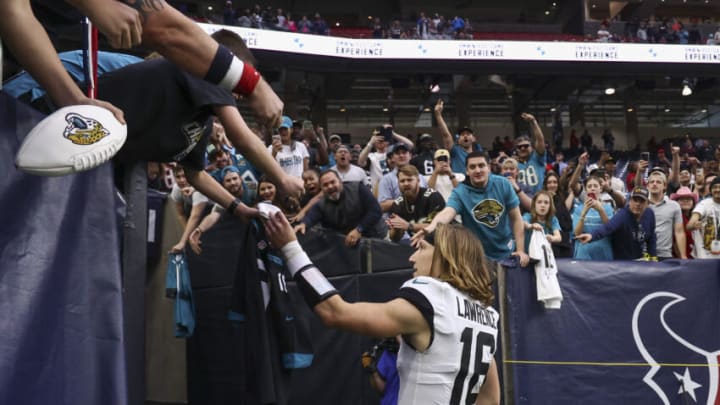 Jacksonville Jaguars quarterback Trevor Lawrence (16) at NRG Stadium. Mandatory Credit: Troy Taormina-USA TODAY Sports /
The Jacksonville Jaguars managed to end a nine-game losing streak that dated back to 2017 when they beat the Houston Texans in Week 17. Even though this was a game that carried no weight on their odds of making the playoffs, the Jags still showed out and set the tone from the very beginning, and that's reflected in the grade they got from John Breech of CBS Sports.
Breech graded all clubs that played Sunday and gave Jacksonville an A. He argues that even if they had sat their starters, they might still have won by a wide margin.
"The defense came out on fire: On the Texans' first six possessions, they didn't reach Jacksonville territory a single time and the Jags returned a fumble for a touchdown during that span. Offensively, the Jags weren't flashy, but they did come up with several big plays, including a 62-yard TD run by Travis Etienne. At 8-8, the Jags are now just one win away from hosting a wild card game and based on the way they're playing, this should be a team that no one wants to face."
Travis Etienne, JaMycal Hasty, and rookie Snoop Conner combined for 169 rushing yards and three touchdowns. Although Trevor Lawrence didn't score a touchdown and threw for less than 200 passing yards, he made good decisions outside of an interception. The defense also did its job, holding Houston to just three points and registering a turnover, a fumble recovery that cornerback Tyson Campbell took to the house.
The Jaguars are close to completing their 2022 turnaround
The Jaguars have shown they're no longer the same team they were in previous years. They're winning games they would have probably lost in the past. Heck, they were favored to beat Houston in Week 5 and couldn't get the job done. They had the talent and home-field advantage. Yet, they mustered a measly six points against their division foes.
But even since head coach Doug Pederson took over the team, the Jags have worked on getting better each week. It sounds cliche or coach speak but the truth is that Jacksonville is doing what's needed to succeed. They try to build off of wins and avoid dwelling on past mistakes.
You could make the case that every NFL team tries to do that but not everyone call pull it off the way the Jaguars have in 2022. They've shown resiliency during the season and have been able to respond to unfavorable situations.
These Jaguars are built to come back from behind to win games. As Breech pointed out, their offense wasn't flashy against the Texans but still did enough to come out of NRG Stadium with their eighth victory of the season. Similarly, the defense has gotten better after going through a rough stretch early in the year.
All the work they've put in over the last few months has paid off. Beating the Tennessee Titans in the finale is the only hurdle left to make the postseason for the first time since 2017. But given how they've played in recent weeks, they should have no trouble clearing it.