Jaguars reach milestones in win vs. Chris Streveler-led NY Jets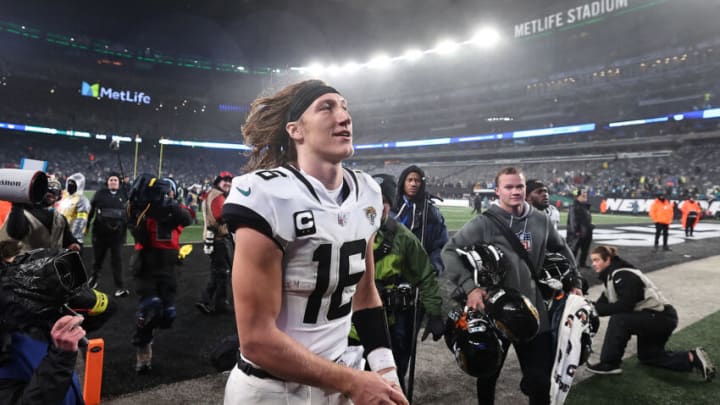 Trevor Lawrence #16 of the Jacksonville Jaguars jogs off the field at MetLife Stadium on December 22, 2022 in East Rutherford, New Jersey. (Photo by Dustin Satloff/Getty Images) /
It wasn't a high-scoring affair but the Jacksonville Jaguars took care of business in Week 16, beating the New York Jets 19-3 on Thursday Night Football.
So how did Zach Wilson, who filled in for Mike White, fare against the Jacksonville Jaguars on Thursday Night Football? You know it didn't go well when he was benched in favor of Chris Streveler, a quarterback that spent two years in the Canadian Football League after going undrafted in 2018.
Although Streveler gave the Jets' offense a spark when he took over at quarterback, it wasn't nearly enough to get over the top. Before getting pulled, Wilson completed 50 percent of his passes for 92 yards with one interception. Streverler was 10-of-15 for 90 yards and added 54 yards on nine carries.
The fact that Streveler got a standing ovation from fans as soon as he got into the game tells how what you need to know about Wilson, who hasn't lived up to his draft status and is no longer a feasible option for the Jets at quarterback.
While Trevor Lawrence didn't have a multi-touchdown game, he did enough to beat New York. Outside of his lost fumble early in the game, he was able to move the ball efficiently on a day in which the weather didn't make it easy to throw the ball. The former Clemson Tiger went 20-of-31 for 229 yards with no passing touchdowns, one rushing touchdown, and one interception.
The Jaguars reached 2 player milestones vs. the NY Jets
Travis Etienne had a productive outing for the second week in a row, toting the rock 22 times for 83 yards, and now has 1,000 rushing yards for the 2022 season, making it the first time in his young NFL career he's achieved the feat.
The Jags' most valuable player on offense might have been tight end Evan Engram, who broke Kyle Brady's franchise record for receptions in a season by a tight end and fell seven yards short of also shattering his record of receiving yards by a tight end (729).
Even though Wilson isn't the kind of quarterback that will keep offensive coordinators game-planning all night long, the Jaguars' defense did a good job of keeping the Jets' offense in check, giving up just three points. When you take into account that they've been giving up 20 or more since Week, that should be counted as progress.
The Jags got their seventh win of the season. This is only the second time since 2008 that they've won more than six. There's no doubt, they're trending in the right direction under head coach Doug Pederson. With two games to go, they have a realistic shot at winning the AFC South.