Jaguars looking to solidify playoff chances vs. Cowboys in Week 15: Odds and prediction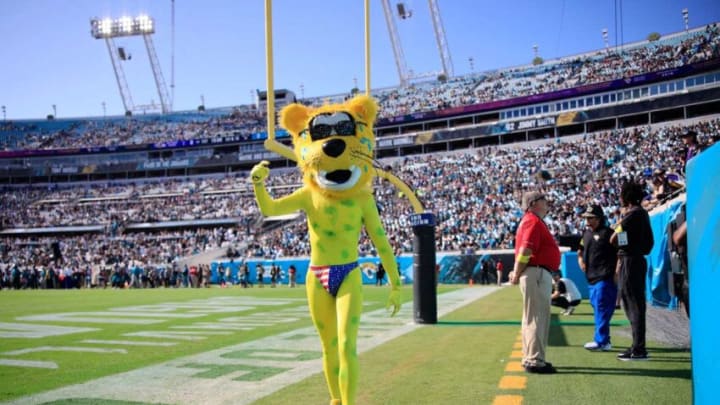 Jaxson de Ville walks the sideline at TIAA Bank Field in Jacksonville. [Corey Perrine/Florida Times-Union]Jki 112722 Nfl Ravens Jags Cp 81 /
The Jacksonville Jaguars beat the Tennessee Titans one week after falling to the Detroit Lions. Next on their schedule is a Dallas Cowboys team that will try to put an end to their slim playoff hopes.
Head coach Doug Pederson met with the local media Monday and said that he wouldn't have imagined the Jags would be playing a meaningful game at this point of the year in his first season at the helm.
"That's why you into this business is to win games", Pederson said. "But when you look at the big picture of things, I didn't know necessarily if we were gonna be in this position or not. It could be better as we know, we are where we are because of our own doing but it's one of the things I keep challenging our football team with is you want to be playing meaningful games in December and January".
Of course, the Jaguars won't be able to keep fighting for their playoff hopes if they can't take care of business when Dallas comes to TIAA Bank Field. With this in mind, here are the odds and a prediction for Week 14.
Jaguars vs. Cowboys Odds and Spread for Week 15
Betsided has the Jags as a five-point underdog with a moneyline of +200 for this one. Bet $100 on them and win $200 for a total payout of $300 if they beat Dallas. The Cowboys' moneyline sits at -208. Place a bet of $208 and win $400 if they win in Week 14. The over/under for the game is set at 47.5 points.
Jaguars vs. Cowboys Final Score Prediction for Week 15
The Jaguars have proven this year they can play at a high level. What they've failed to do is do it on a consistent basis. They will have a great outing one week just to come crashing down the next. They were underdogs against the Baltimore Ravens and the Tennessee Titans but beat both. Conversely, they were favorites to defeat the Houston Texans, and the New York Giants but lost to both.
Simply, it's hard to tell how this one is going to play out. If Jacksonville plays the way they did last week, they have no trouble disposing of the Cowboys but if they play uninspiring football like the one against the Lions, they lose and their chances of qualifying for the playoffs will evaporate.
At 10-3, Dallas is one of the top teams in the NFC, and only the Philadelphia Eagles are arguably better. The Cowboys have the third-best offense in the league, so the Jags' defense would need to keep generating turnovers at a high rate. Led by standout linebacker Micah Parsons, Big D also ranks third in points scored, so Jacksonville will need to get off to a strong start to have a shot.
The game will be held at TIAA Bank Field, so the Jaguars could have a slight advantage. Moreover, Trevor Lawrence is playing the best football of his career but given how irregular they have been, it's hard to pick them to win this one.
Final score: Cowboys 27 – Jaguars 20