Jaguars trading James Robinson to Jets is a sad moment for fans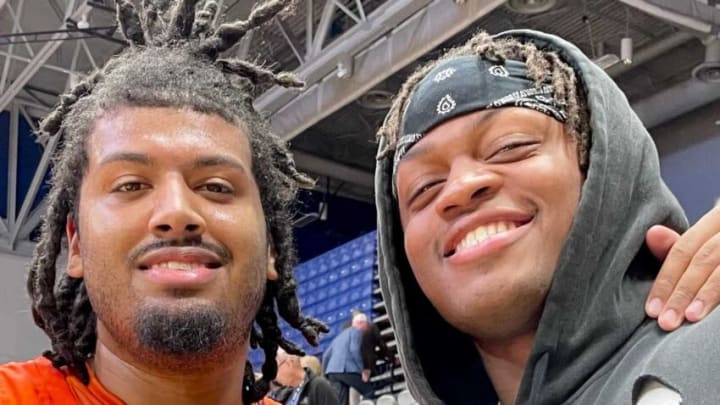 Jaguars running back James Robinson (right) and Edward Waters College center Bryant Nolan Jr., (left) grew up together in Rockford, Ill. /
One of the harshest realities of the NFL is that players can change teams at any moment. Less than 24 ago, running back James Robinson was a member of the Jacksonville Jaguars but he was traded to the New York Jets Monday in exchange for a conditional sixth-round pick that can turn into a fifth-rounder in next year's draft if certain conditions are met.
Ian Rapoport of NFL Media first reported the transaction, and Adam Schefter of ESPN later added details of the compensation. The trade is kind of surprising when you take into account that Jaguars head coach Doug Pederson had told the media that Robinson had gotten a diminished role because he had been having knee issues, but after the trade, it's likely that the coaching staff wanted to keep him out of harm's way.
An undrafted free agent in 2020, Robinson supplanted Leonard Fournette as the No.1 running back on the depth chart in that year's training camp and rewarded the Jags with 1,414 yards from scrimmage, the most by an undrafted player in league history. The former Illinois State Redbird had an equally productive sophomore campaign before getting benched by Urban Meyer.
Once Robinson was reinstated in the starting lineup, he tore his ACL towards the end of the 2021 season and spent the whole offseason recovering. But his hard work and determination paid off, as he was back for the 2022 opener against the Washington Commanders, which is surprising when you take into account that he was fully healthy less than 10 months after suffering a season-ending injury.
Robinson started this season with a bang, racking up 11 carries for 66 yards and a touchdown against the Commanders. Later against the Los Angeles Chargers in Week 3, he broke off a 50-yard touchdown run, showing he had no setbacks. All in all, the Illinois native appeared in 35 games with 32 starts and tallied 485 carries for 2,177 yards with 18 touchdowns. On top of that, he had 89 catches for 612 yards with four receiving touchdowns. Here's a reminder of how good Robinson is and the player the Jets are getting.
The Jaguars threw a curveball with the James Robinson trade
Right after the loss to the Giants, Doug Pederson was vague about why Robinson had gotten fewer carries in recent weeks. On Monday, he said his limited workload was due to knee issues. In hindsight, he might not have been upfront.  Maybe the team's brass wasn't sure they were going to pull off a trade, so they wanted to play it close to the vest, but it still feels like he wasn't truthful. Either way, John Shipley of FanNation says other Jaguars players were caught by surprise.
Maybe Robinson didn't fully fit what Pederson wanted to do on offense but this trade kind of stings when you considered how liked he was in the locker room and how humble he is. Moreover, he was one of the Jaguars' best offensive players the last two years, and they were certainly better when he was on the field. Even with Travis Etienne progressively gaining a bigger role on offense, there was still room for Robinson in their backfield and deserved to get a contract extension.
Moving forward, Robinson will be suiting up for the NY Jets but one thing is clear, regardless of the colors he wears, his contributions as a member of the Jaguars will never be forgotten.