NFL analyst sees Jacksonville Jaguars winning 8 games in 2022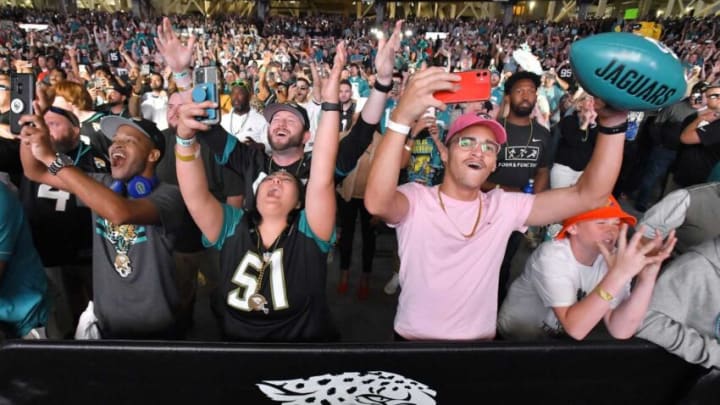 Jaguars fans celebrate as Georgia's Travon Walker. [Bob Self/Florida Times-Union] /
The Jacksonville Jaguars revamped their roster this offseason, making several splash signings in free agency. Most observers believe they will win more games in 2022, with the consensus being seven games. Jim Trotter of NFL Media believes they will do slightly better.
Trotter recently drew up a list of teams he thinks will win five more games than last season and the Jags made the cut. He says that Urban Meyer, not talent, was their biggest issue but with him and his arrogance gone, the Jaguars will become a competitive team "that no one wants to play" towards the end of the year. Moreover, Trotter expects head coach Doug Pederson to have a positive influence on Trevor Lawrence.
"I don't expect the Jags to hit the ground running in full stride; it will take time to break through the scar tissue associated with only one winning season since 2007 and five last-place finishes in the past six seasons. They also will need time to develop the type of trust that only comes with walking through the fire together. But by the end of the 2022 season, I expect Jacksonville to find its rhythm and be a team no one wants to play, particularly if that opponent needs a win to reach the playoffs. Look for Pederson to work wonders not only instilling a positive culture, but also helping second-year quarterback Trevor Lawrence show why he was considered a generational talent coming out of Clemson."
The New York Jets, the Detriot Lions, the Seattle Seahawks, and the Denver Broncos also made Trotter's list. The Broncos stand out because they're the only team of the bunch projected to win six, not five games, which is understandable when you take into account that they acquired quarterback Russell Wilson earlier this year.
Can the Jacksonville Jaguars really win eight games in 2022?
Trotter might be into something when he said Meyer was the main reason the Jaguars struggled last year. Once he was gone and without the burden on their shoulders, they play stress-free football against the Indianapolis Colts in Week 18 and they beat them. Trevor Lawrence had his best outing of the year, completing over 70 percent of his passes and throwing two touchdowns with two interceptions. Similarly, the defense logged six sacks and registered two turnovers.
Also, the cupboard wasn't fully bare. The Jaguars had outside linebacker Josh Allen, defensive tackle Roy Robertson-Harris, cornerback Shaquill Griffin, left tackle Cam Robinson, and wide receiver Marvin Jones Jr.
Having said that, the Jaguars did need playmakers. Lawrence didn't have enough weapons and the defense couldn't constantly apply pressure on opposing quarterbacks. Head coach Doug Pederson is indeed a gigantic upgrade over Meyer but there's only so much the head coach can do and at some point, he will need good players, which is why the front office pulled no punches in free agency and came out with a haul that should have a big impact in 2022. In fact, most of the players the Jags signed will have starting roles in Week 1.
There are solid pieces in place and it's hard to envision the Jaguars regressing this upcoming season. While a Bengals-like leap is unrealistic, don't be surprised if they do manage to win eight games. It would still be a losing record but it would certainly be a positive step in the right direction.