Jaguars should rule out potentially trading OT Walker Little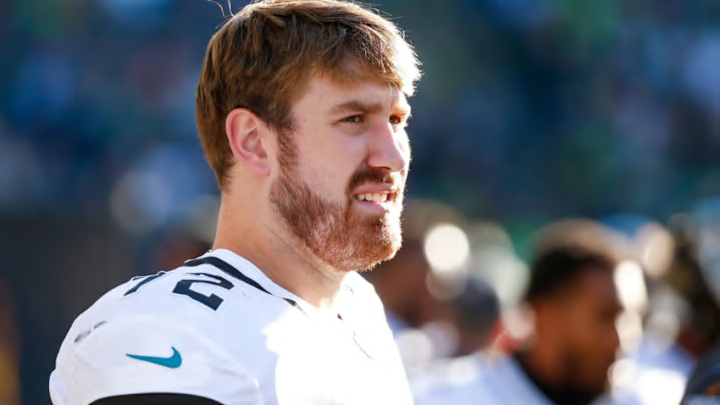 Jacksonville Jaguars offensive tackle Walker Little (72). Mandatory Credit: Joe Nicholson-USA TODAY Sports /
Teams around the NFL will hold position battles through training camp and the Jacksonville Jaguars won't be any different. Incumbent Jawaan Taylor and sophomore Walker Little will compete for the right tackle job, and while it's hard to predict how it will play out, Ian Wharton of Bleacher Report believes the Jags would be better off shipping Little to the Buffalo Bills.
Wharton recently drew up a list of trades each team should make before the start of the regular season and he suggested the Bills sends a fourth-round selection to Jacksonville in exchange for the former Stanford Cardinal. He argues that there's no room for Little in Jacksonville after giving left tackle Cam Robinson a three-year deal worth $54 million and the previous investment they made in Taylor.
"With the Jaguars re-signing Cam Robinson to a massive new deal and investing into Jawaan Taylor as a first-round pick, there's no room for Little to start in Jacksonville. He could benefit from a move to guard in Buffalo since he's a solid athlete but struggles with dealing with power rushers off the edge. The best case is Buffalo adds a starting-caliber guard for a Day 3 pick. The worst case is they bolster a position of need for two years until Little is a free-agent."
It's important to note that Taylor was drafted in the second round, not the first but clubs around the league might show a legitimate interest in Little if he were available. A second-round pick himself in last year's draft, the Texas native showed flashes as a rookie, starting three games and posting a solid 68.6 Pro Football Focus overall grade. Although he gave up two sacks in his first start, he didn't allow any in the next two. Having said that, it doesn't make sense for the Jaguars to move on from him.
Walker Little could become a mainstay of the Jaguars O-Line
Before Little tore his ACL in 2019, he was one on his way to becoming one of the top offensive tackles in college, so the talent is certainly there. And he will now be tasked with making the transition to right tackle, which could turn out to be a bit of a challenge since he has exclusively lined up at left tackle. In fact, Taylor will have an early advantage by virtue of having more experience at the position.
But even if Little losses the battle, the Jaguars are better off keeping him. As offensive line coach Phil Rauscher recently said, offensive linemen often take a few years to fully adjust to the pros, and Little hadn't played for nearly two years before 2021, so it's possible that he will keep improving this upcoming season. Taylor is scheduled to become a free agent in 2023 and if he doesn't make a strong case to earn a long-term extension, the team's brass could then let him walk in free agency and plug Little at right tackle.
Also, the Jaguars can't move on from the second-year offensive tackle without seeing what he's capable of doing in the next three years. He may indeed be an upgrade at right tackle, so why not give him a legitimate chance to develop Last but not least, Little could immediately step over at right or left tackle if either Taylor or Robinson had to. Keep in mind that Little is entering the second year of his rookie deal, so keeping him isn't cost-prohibitive.
Last year, the Jaguars traded several players that didn't fit their vision nor were part of their long-term future. They can't do the same with Little this year. Instead, they need to find out if he will be part of their long-term future.