Jaguars earn somewhat low grade for 2022 NFL Draft class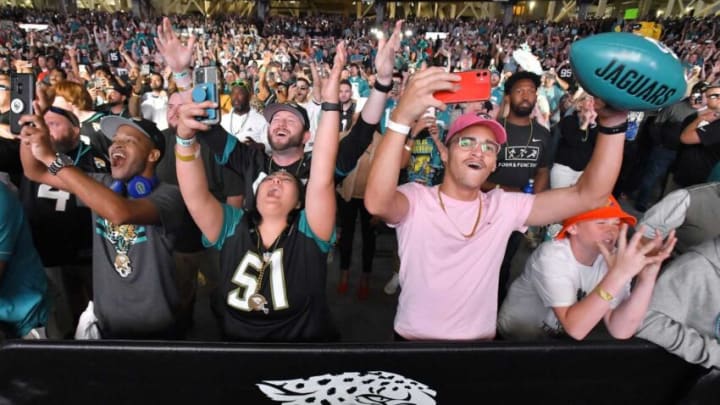 Jaguars fans celebrate as Georgia's Travon Walker. [Bob Self/Florida Times-Union] /
The Jacksonville Jaguars are building a balanced team. They first made several upgrades to their offense in free agency and later loaded up on defense talent in the 2022 NFL Draft. However, they didn't get a particularly high grade for their draft haul.
Bleacher Report tracked every draft pick and gave the Jaguars somewhat low marks for most of the ones they made. Here's every single one of them:
Round 1, No. 1 pick – Georgia defensive lineman Travon Walker: C
Round 1, No. 27 pick – Utah linebacker Devin Lloyd: B
Round 3, No. 65 pick – Luke Fortner: B
Round 3, No. 70 pick – Wyoming Linebacker Chad Muma: B
Round 5, No. 154 pick – Snoop Conner: C
Round 6, No. 197 – Ouachita Baptist cornerback Gregory Junior: C
Round 6, No. 222 – Arkansas cornerback Montaric Brown: D
On one hand, it's not surprising to see the Jaguars get a low grade for selecting Walker at the top of the draft. After all, the pick has been welcomed with mixed reviews. In this case, the B/R staff notes that his limited production in college is scary and says that there will be questions about whether the former Georgia Bulldog "will ever become a game-changer as an edge-rusher". The Loyd pick earned a warner review, and Jacksonville was praised for selecting such a versatile player.
The Jaguars' third-round pick got the best grades because Fortner can compete with Tyler Shatley for the starting center job and they didn't have to trade up to land him. Similarly, Jacksonville had already drafted Lloyd but got great value in Muma at No. 70. At first sight, double-dipping at linebacker might seem unnecessary but if the point of the draft is to come out with as many talented players as possible, do you blame the Jags for adopting the "best player available" approach? Finally, it's important to develop players and build depth, which is why they took two cornerbacks with back-to-back picks in the last round.
The Jaguars went for the BPA approach and trusted their draft board.
Sure, it would have been great to see the Jaguars add another wide receiver or a tight end. Also, they could have drafted a developmental prospect at quarterback but all things considered, Jacksonville walked away from the selection meeting with a pretty good haul.
The Walker pick will always be under scrutiny, or at least until he takes the field and delivers. However, they had addressed most position needs in free agency, so the top brass' had a chance to take the best players on their big board.
It's important to remember that the Jaguars had a dearth of difference-makers last season and they're coming off a season in which they managed to win just three games. Naturally, they had many roster holes and one offseason wasn't going to be enough to fill all of them.
Should the Jaguars have drafted a few offensive players? Maybe but it's hard to dislike their final haul. It will be a while before they can assess the results of their 2022 draft class but they deserve credit for not overreaching and not worrying about outside perception of their strategy.