Jacksonville Jaguars: How viable are the Jags in Jacksonville?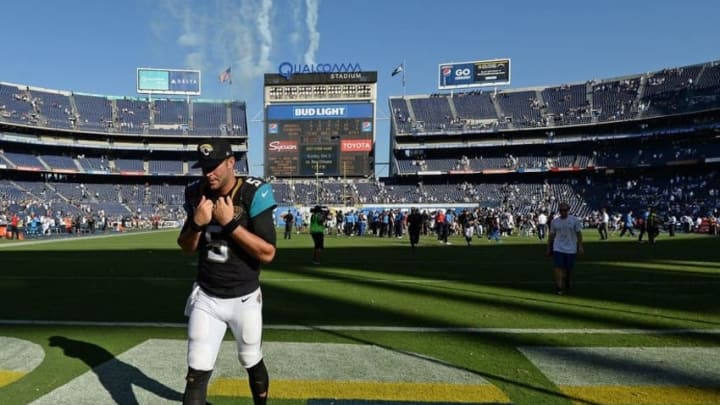 Sep 18, 2016; San Diego, CA, USA; Jacksonville Jaguars quarterback Blake Bortles (5) walks off the field after a 38-14 loss to San Diego Chargers at Qualcomm Stadium. Mandatory Credit: Jake Roth-USA TODAY Sports /
The Jacksonville Jaguars have shown an investment in the city of Jacksonville, but will the relocation rumors ever stop?
"But they're never competitive!"
"Why does Jacksonville even have an NFL team?"
"Who?"
Make no mistake… I believe in the Khans and the Jacksonville Jaguars franchise.
That said, EVP Tom Coughlin's success potentially represents the Jaguars' final chance to stay in Duval County.  If Coughlin fails, the Jaguars may fall victim to the recent relocation trend within the NFL.  
Since 2015, mainstay franchises have relocated.  
#1. The Chargers called San Diego home for 46 years!  This included 14 divisional championships and one Super Bowl appearance.  Despite such a storied history, the Chargers left San Diego for Los Angeles in 2017.
#2. The Rams originated in Los Angeles in 1946, and carried the legacies of the "Fearsome Foursome," including possibly the best pass rusher EVER, Deacon Jones, as well as Jack Youngblood and Eric Dickerson, who went on to set rookie single season records for rushing yards (1,808) and touchdowns (20). The franchise relocated to St. Louis in 1995 and stayed for a decade. Within their tenure, they won Super Bowl 34, compiled one of the greatest offenses of all time, nicknamed "The Greatest Show on Turf," and proudly boasts seven hall of fame players.  It's a disgrace that a franchise with such a storied legacy gets pawned off to the highest bidder, but such is business.
#3. I refuse to comment in depth on the Oakland/LA/SD/Las Vegas Raiders, as their "in flux" status makes the franchise a better candidate for a "Real Housewives" spinoff than a legitimate professional sports franchise. When the billion-dollar owner sports the haircut of Lloyd Christmas, the expectations are clearly….unclear.
Up next? The Jaguars. The Jaguars are a mainstay in the top of the draft.  The Jaguars are annually at the bottom of the worst division in the league. One season it's the defense giving up too many yards and points. The next, it's the offense that can't score enough to stay competitive.  
Slice it how you see fit, the Jaguars have lacked consistent winning for over a decade, and minimal history beyond that. The Jaguars seem likely to be the next franchise in the relocation frenzy.  
The question being, is there a viable landing spot? According to Yahoo! Sports, these are the top options:
#1. San Diego – How you regain an NFL franchise without a viable stadium, initial funding, or realistic local support is beyond sane reasoning. They lost a storied franchise for a reason. Hard pass. Enjoy the sun and your future MLS teams. Also, the LA Chargers are still in your TV market. Ouch.
#2. Toronto – The Jaguars just signed the Toronto Argonauts' head coach Scott Milanovich as their QB coach. It would be insane for a head coach to voluntarily take a position job, right? Oh… hey, Coach Marrone… didn't see you there… Can I offer you some Buffalo wings… wait, nevermind. I've said enough. This is all in jest, as every Jaguars fan should understand and expect immediate success with the current heads of state.
#3. London – So when the restructuring of divisions takes place, just don't be the guy that explains to the NFC/AFC west teams that they have to fly 11 hrs for a game, just to lose a travel day flying back to prepare for their next opponent.  If there's one thing NFL coaches love, it's two days of missed prep time!  Thursday games work so poorly now, why not double down and include more teams and fan bases in shortened weeks?  I don't envy the Seattle Seahawks' fan that wakes up at three in the morning to prepare for "America's Game" taking place in "not America." But that's assuming a lot. Like the Seahawks' decaying franchise.  Oh wait, that's actually happening… The 12th man is in College Station. It was fun for a bit, but you're adults, not college freshmen. Stop acting like it's the same. Pay your damn mortgage and kiss your fat wife like a man. A sad man.  
#4. St Louis – Seriously, this is the fourth best option?  The city that had a team with a recent Super Bowl trophy and still couldn't retain an NFL franchise? Why? Stan Kroenke? His "real hair" and "credibility" may be questionable, but the "diehard" and "hardcore" fans were the real issue. From 2011-2015, the Rams averaged 30th in attendance, of 32 teams, according to NFL statistical research. During the same time frame, the fans of the Jaguars averaged 23rd in attendance. While there won't be a parade through Main St. in Downtown, the NFL ownership group knows that a -21.8% in attendance is not a relocation hot spot. St. Louis is a baseball and hockey town.  Maybe leave it as it is? Yes. The answer is yes.  
More from Black and Teal
#5.  San Antonio – Great city, great fanbase.  My mom's favorite city to visit. Great. That said, there are more species of sharks I'd rather tangle with than going territorial with Bob McNair and Jerry Jones in Texas. Simply put, these men will never let it happen. Ever. Jones and McNair already roughly compete with Baylor, Texas, and Texas A&M for football supremacy.  Jerry Jones holds the whip hand among NFL owners, and surely wields it with pleasure when San Antonio is brought up.
In summary, the Jacksonville Jaguars are not going anywhere. There are hurdles that clearly obstruct the team's success. Everyone from Shad Khan and Tom Coughlin, to Blake Bortles and Malik Jackson, recognize these hurdles. No one can guarantee outcomes either way, but rest assured when the positive results roll in, Duval County will cash in their collective patience and loyalty. Tequila shots on me!  Whether or not I bathe is your gamble… 
*Go Jags*