3 best landing spots for Jacksonville Jaguars TE Evan Engram if he hits free agency in 2023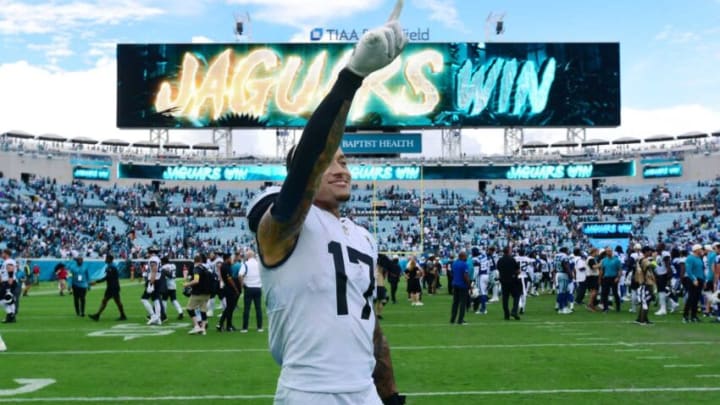 Jacksonville Jaguars TE Evan Engram at TIAA Bank Field. [Bob Self/Florida Times-Union] /
The Jacksonville Jaguars are doing their best to re-sign tight end Evan Engram, who is set to become a free agent after arriving on a one-year contract last offseason. Engram recently said that there's a mutual interest to get a deal done but until he puts his signature on paper, there's always a chance negotiations will break off.
Engram is coming off a career year and has stated in the past that he would love to return. Currently, it looks like things are headed in the right direction and Jags could make an announcement at any time. But if for some reason the former Ole Miss Rebel does become a free agent, these three teams should get in touch with him.
No. 3 Jacksonville Jaguars TE Evan Engram landing spot: Cincinnati Bengals
Cincinnati Bengals quarterback Joe Burrow (9), Cincinnati Bengals wide receiver Ja'Marr Chase (1) at AT&T Stadium. (Imagn Images photo pool) /
The Cincinnati Bengals have an ascending quarterback in Joe Burrow and they've spent the last two years making upgrades to their supporting cast. However, they're still missing a top tight end. Last offseason, they signed Hayden Hurst, who proved to be a reliable target, catching 52 passes for 414 with two touchdowns on 68 targets.
While it makes sense to bring back Hurst lacks big-play potential. Re-signing him wouldn't be expensive but Evan Engram would be a massive upgrade at tight end. With Engram running routes in the middle of the field, defenses wouldn't be able to devote enough attention to Ja'Marr Chase and Tee Higgins (if he isn't traded).
The Bengals already have a great offense but they could be even better if they add Engram in free agency.