With Free Agency spending transforming a number of teams, it makes sense that the odds of winning the Super Bowl are adjusted to match. Did the Miami Dolphins increase their odds? What about the Indianapolis Colts? How did teams that were less active in free agency pan out? Well, for the Jacksonville Jaguars, not so well. Here are the odd before free agency and since Sunday, March 17th, per the LVH Sports Book Las Vegas (Thanks to NFP).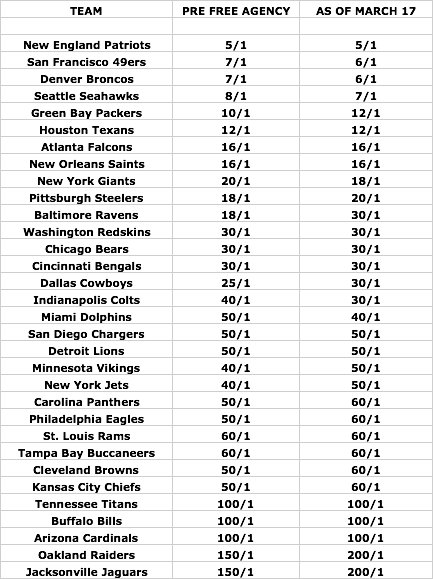 If anything, things got worse for the Jaguars, who now have 200/1 odds of winning the Super Bowl. I'm not generally a betting man, but those odds are terrible! Of note, the Miami Dolphins increased their odds by ten points and the Indianapolis Colts rose by ten as well. The big drop of 50 points by the Jags and Oakland Raiders is more indicative of the desire to drive more money out of those fans than it is that their relative silence in free agency is hurting the teams.
The New England Patriots have done a good job of bolstering their team even while losing players like Wes Welker. I still don't see them as the real favorite, no matter what Las Vegas says.
– Luke N. Sims
Feel free to leave comments on here or visit us at Facebook or Twitter!
You can also find me on Twitter @LukeNSims
Tags: Jacksonville Jaguars Super Bowl 2014 Odds Super Bowl Odds