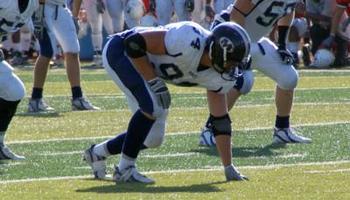 Editor's Note: Just wanted to commend Jason Love for getting the inside scoop on Marc Schiechl – his article was tweeted and quickly scooped up by other outlets.
Black and Teal has learned, thanks to astute observations by Jonathan Wallace, that Marc Schiechl has updated his Facebook status to read "Jacksonville Jaguars". The comments section following his update suggests that Schiechl has been and is currently in contact with the Jaguars front office and may have already agreed in principle to a contract. Hopefully this is true, as Schiechl is a great DII prospect. Click on the jump to check out a preview on Schiechl.
Marc Schiechl
, Colorado School of Mines
Height: 6'2″
Weight: 255 lbs
40-yd dash: 4.67 sec
Bench Press (225 lbs.) – 38 reps

Positives
Marc Schiechl is the DII all-time career sack leader. He possesses good speed and size for the 4-3 defensive end position and has the athleticism to play as a 3-4 rush linebacker. Is known for his strong character and unrelenting work ethic and tenacious presence on the field. He has the explosiveness you seek in pass rusher, , posting a 10'05" long jump and strong 10- and 20- yard splits. Schiechl offers schematic versatility and was named to the AP Little All-American First Team.
Negatives
Somewhat smallish for a 4-3 end at 6'2″ and 255 and only has experience against DII competition.
Thoughts/Initial Reactions
This is a great grab by the Jaguars. Schiechl is a tenacious rusher with a decent skill set. He is a very good athlete for his size and will allow the Jaguars to play around with his positioning. He offers good enough size, although he may never been a dominant, every downs end. Looks to offer early returns on passing downs.
– Jason Love
Additional Video and Links

Consensus Draft Services Profile of Marc Schiechl
Tags: Free Agency Free Agent Jacksonville Jaguars Lockout Marc Schiechl Signing Udfa